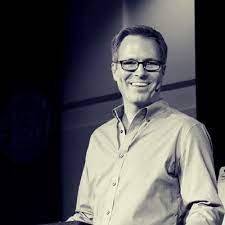 I talk to a lot of founders and CEOs in Silicon Valley.  They started telling me "you know, I couldn't have done it without…" When I heard that multiple times, I just had to meet the guy they were talking about – Joe Hudson.
Turns out, Joe Hudson is a sought after executive coach and creator of The Art of Accomplishment, an online learning platform for personal development. And get this – he quit his job as a venture capitalist to become a coach.
Yep — as a venture capitalist Joe found that the most rewarding aspect, and the part he was most successful at, was the mentorship and coaching of the leadership of his portfolio companies. This insight moved him to his present role as a coach, business consultant and teacher. He now coaches 12 CEOs and leaders in prominent companies and runs transformative programs for both individuals and businesses. He is says he is practicing a craft that makes big, lasting, and overwhelmingly positive impacts on the lives of people in his programs and in the companies he works with.
In this episode we discuss his journey, why he only coaches 12 people a year – and how you can participate (since you're not one of those 12 people!) (Hint: Go to https://artofaccomplishment.com/connection/ and use code "VENTURED")
The Art of Accomplishment. https://artofaccomplishment.com/
Something Ventured Podcast https://artofaccomplishment.com/
Comments closed