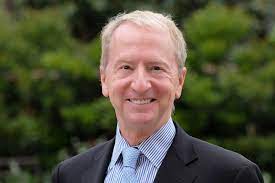 Listen on iTunes, Spotify or wherever you get your podcasts!
David Bohnett founded Geocities in the 1990s, well before the internet attained its current ubiquity. GeoCities became publicly traded on NASDAQ and was acquired by Yahoo! Inc. in 1999. In a 2007 article, the Wall Street Journal described it as a Facebook prototype and noted, "Back then, entries were known as home pages, not profiles. But the basic, expressive elements of today's Facebook and competitor MySpace … were all right there."

David found himself wealthy with the ability to do whatever he wanted for the rest of his life.
He became a philanthropist and social activist.

In addition to serving as Chair of the David Bohnett Foundation, he is the Chairman of the Executive Committee on the Board of the Wallis Annenberg Center for the Performing Arts, Vice Chairman of the Board of the Los Angeles Philharmonic Association and Trustee of the Brookings Institution, John F. Kennedy Center for the Performing Arts, Los Angeles County Museum of Art (LACMA) and the University of Southern California (USC).

Since 1999, the David Bohnett Foundation has focused on several funding areas: The Fund for Los Angeles, supporting a broad spectrum of arts, educational and civic programs including the Los Angeles Philharmonic, LACMA and CicLAvia; LGBTQ-related causes; graduate school leadership programs at the University of Michigan, UCLA, NYU and Harvard; voting rights and registration initiatives; supporting research and public policies to reduce the toll of firearm violence; and animal research and rights.

Grants totaling over $115 million to date have supported the work of a wide range of organizations including the Brady Center to Prevent Gun Violence, The Wildlife Alliance, the ACLU Foundation, Equality California, and the David Bohnett Gay & Lesbian Leadership Fellows program at Harvard University's Kennedy School of Government. The David Bohnett CyberCenters are another major undertaking — currently at over 60 LGBTQ centers nationwide, they offer business, educational, research, and recreational opportunities to the local gay and lesbian community via access to the Internet.
David Bohnett Foundation: http://www.bohnettfoundation.org/
Comments closed