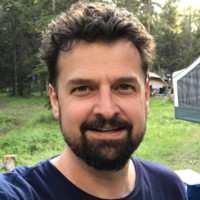 Do you know why you download podcasts, but stream video? This is the podcast that tells the story. Jeff Macpherson is founder of AR/VR training company Motive.io. But before that – he created and acted in "Tiki Bar TV". If you don't know what that is, you can — and should find it at TikiBarTV.com. Tiki Bar TV was at the red-hot center of the early video wars – which were at one point a knife-fight between Apple and YouTube. "Tiki Bar TV" caught the eye of Steve Jobs, and ended up being featured in one of Jobs' famous onstage product unveilings.

In this episode we talk about the arc of video on the Internet, what it's like getting the call that Steve Jobs wants to include you in his presentation, and what it's like to collaborate with Tosca Musk, Lala and Johnny Johnny.  We also discuss how web series have changed, and early BBS culture.
Listen on iTunes, Spotify or wherever you get your podcasts.
Comments closed