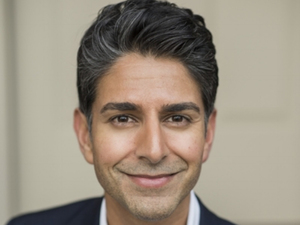 Suneel Gupta is author of the book "Backable: The Surprising Truth Behind What Makes People Take a Chance". Backable tells Suneel's journey from first-time entrepreneur to being named "The New Face of Innovation" by the New York Stock Exchange. Suneel's ideas have been adopted by firms like Greylock and Google Ventures, and he served as an Entrepreneur in Residence at Kleiner Perkins Caufield & Byers. He has personally backed startups including Impossible Foods, AirBnB, 23&Me, Calm, and SpaceX.

Also — In 2018, Suneel ran for election to the U.S. House to represent Michigan's 11th Congressional District. Before running for Congress, Suneel co-founded and served as CEO of RISE, a mobile health company that partnered with Michelle Obama to lower the cost of quality care for thousands of patients. Just two years after launch, One Medical acquired RISE.
If that wasn't enough — Suneel is also a lawyer and filmmaker. Yup. He started his career in the Clinton White House where he served as a speechwriter, learning from West Wing staffers like Michael McCurry and Rahm Emanuel. A few years later, he was asked to co-author the national platform for the Democratic Party.

Suneel produced the Kahani Movement, an interactive film project about the first generation of Indian-Americans, which debuted at South by Southwest with his brother, Dr. Sanjay Gupta (CNN). He also worked for the president of Sony Pictures Television when the studio was investing in new creative concepts like Breaking Bad.
And then there's…happiness. Suneel is the co-founder at Gross National Happiness Center of America in partnership with the Kingdom of Bhutan.